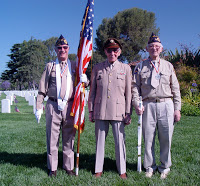 Memorial Day Monday dawned with a cerulean blue sky scraped clean of clouds. Scout-planted flags fluttered in a hit-or-miss breeze in the Los Angeles National Cemetery.
A jug-eared young man in Civil War costume pushed a cannon into place. A trio of old veterans paused as one photographer after another begged for another shot. A woman in a Civil War-era long plaid skirt and bodice stepped carefully out of an SUV as participants gathered for the annual Memorial Day service.
Seldom noted in Memorial Day festivities are the military war dogs who have served with U.S. soldiers for more than 100 years.  It wasn't until 1942 that they were officially inducted into the U.S. Army.
By the end of World War II, there were 559 dogs serving in the U.S. Marine Corps. An estimated 5,000 dogs served in the Vietnam War between 1966 and 1973). By early 2010, the U.S. Army had 2,800 active-duty dogs deployed — the largest canine contingent in the world.  About 600 dogs are serving in Afghanistan and Iraq now and more are expected to be added in the coming year.
A dog was reportedly part of the 80-member American commando team that assassinated Osama bin Laden.
In today's wars, where ad hoc explosive devices cause two-thirds of all casualties, dogs bring great assets. Their keen noses help find bombs quickly.  According to David H. Petraeus, commander of the U.S. forces in Afghanistan, "The capability they (dogs) bring to the fight cannot be replicated by man or machine.' (He was quoted in a May 4 New York Times Science article by Gardiner Harris.)
On the raid to find bin Laden, a dog could have played many roles:
Checked for explosives
Sniffed out booby-trapped door handles
Searched for secret rooms or underground hiding places
Brought down anyone who tried to escape. Maj. William Roberts, commander of the Defense Department's Military working Dog Center at Lackland Air Force Base in Texas, noted that a German Shepherd or Beligium Malinois can run twice as fast as a human. These two breeds are the most common in the military.)
Tech Sgt. Kelly A. Mylott, the kennel master at Langley Air Force Base in Virginia, points out that dogs are ideal for getting someone who is running away without shooting them.  They can be trained to grab ad hold a wanted person or leap on suspect bringing them to ground.  In the dog-averse culture of the middle East, dogs can be used for crowd control or to get people's attention in ways that weapons sometimes do not, Sgt. Mylott noted.
Dogs are so useful to the military that the Navy Seals in 2010 brought four waterproof tactical vests — costing more than $86,000 in all — that feature infrared and night-vision cameras.  A dog handler can use a three-inch monitor from as far away as 1,000-yards to see what the dog sees. The handlers communicate with the dogs through a speaker.
A fascinating photo essay by Rebecca Frankel can be seen on the Foreign Policy website showing military dogs in action.
Here are just a few military dogs we'd like to pay tribute to in this season of patriotism between Memorial Day and the Fourth of July:
Remco, who died in 2009 while charging an insurgent's hideout in Afghanistan and was posthumously awarded a Silver Star, one of the Navy's highest honors.
The courier dogs of World War I who delivered vital messages between camps.
The dogs used by the U.S. Marine Corps to help take Pacific Islands back from Japanese occupying forces. (During this time, the Doberman Pinscher became the official dog of the U.S. Marine Corps.
The dogs of the Vietnam War.  These K9 units saved an estimated 10,000 human lives. A total of 43 military working dogs and 73 servicemen handling such dogs were killed in action. Only 200 Vietnam War dogs returned to the U.S. with their handles.  The others were euthanized or left behind.
More tributes can be seen on the United States War Dogs Association website.