Call me dog-bed-obsessed but as I've written about ways that you make the life of a dog in a shelter a little more comfortable with a new bed, the question has been bubbling about the back of my mind whether Fido needs a new dog bed.
Green Thursday has dawned and the question is getting louder.
The dog beds we have
Mind you, Fido isn't complaining. He loves his bed, which was an impulse purchase at Peggy Woods Pet Emporium in Burbank. It's round with nicely stuffed side walls. It sits on my bed where he can watch what's happening around the dining room table where I often work, my book club gathers for discussions or where friends sit when they drop in.
Fido can curl up nearly invisible against the walls with his nose and tail tucked over his feet resting against the plush walls of the bed. He can rest his head on the wall and observe. He can toss his neck over the walls so his nose rests on the bed, giving the muscles of his neck a long stretch. He can stretch his legs out turning the bed into a long oval.
There's a major problem with this bed: while it can be washed, doing so has turned the circular bottom into a bag of lumps.
His office bed is much better designed. A circular pillow about three-and-a-half inches deep, its teal and striped cover unzips for washing.  Even better the stuffed inner pillow also has a zipper for adding to or replacing the stuffing. I keep adding buckwheat to the inner pillow. The buckwheat allows for air circulation and it provides firm adjustable support. Periodically I shake it out to give Fido a fresh start on making it conform perfectly to his napping position.
Neither bed has any manufacturer's information on them.
Dog beds we could get
Fido's former Russian nanny, Vera, was my enthusiastic assistant at a recent trip to CostCo in exploring possible replacement beds.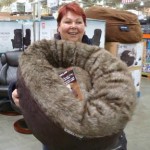 Her favorite was a faux fur-lined stove pot nest bed for about $30. Inside was a separately fur-covered circular pillow. It looked like something the Czar's lap dog would have slept in before the Revolution.
Lovely to look and touch, I kept having a vision of Fido sliding into the crevasse between pillow and bed, tipping paws upward and smothering. And fur in Southern California?!
The next runner up was a structured, rectangular bed with a removable pillow. I could definitely see this in the corner of an Architectural Digest photo. You know the perfect accent for a relaxed, elegant, contemporary living room where an AKC-recognized dog might chill. I couldn't see this bed offering Fido quite the flexibility he has grown accustomed to. In fact, this bed was so much bigger than we need that I could see it requiring me to get a new bed. This option was about $35.
Second runner up was another circular pillow bed much like the office bed that Fido already enjoys. It was the economy model at $27. It was much too big for Fido.
All three of these beds suffer from the same problem that his current bed does: they aren't easy to clean. Slip covering $30 dog beds is not within the range of my skills.
The do-it-yourself option
I'm considering one-and-a-half more options:
Make a new bed myself. Then I might be able to make a removable, washable cover.
Do some surgery on Fido's favorite bed. The only real problem with this bed is that the stuffing in the bottom is getting lumpier with every washing. I could make a slit in the bottom, remove the lumpy stuffing, make a zippered pillow that I could fill with buckwheat to insert instead.  I could doctor the slit with a zippered panel that would make the stuffed pillow removable before washing the bed.
We'll keep you posted.  There's a mile-long list of things to finish before starting this. As Fido says, "Let's sleep on it."