Kudos to dog organizations bringing their causes to the 2014 Rose Parade
We're giving three dog organizations a 21-tail wag for the floats they sponsored in the 2014 Rose Parade on New Year's Day in Pasadena.
The theme of the 125th Rose Parade was "Dreams Come True." Who can show that better than rescue dogs and police dogs? Three of the parade's 45 floats did that stunningly.
The Lucy Pet Foundation, which won the Craftsman Award, featured the miraculous beagle Daniel that survived being gassed in an Alabama shelter when all of the 16 other dogs with him died. Other dogs featured on the float wowed spectators with their tricks.  All of them were rescued from shelters.
The nonprofit foundation was created by Joey Herrick, former president of Natural Balance pet foods, and Karen "Doc" Halligan, former director of veterinary services for the Los Angeles SPCA and a pet health activist. It raises money for spaying and neutering to help prevent the tragedy of euthanizing dogs simply because there is no room in shelter to care for them.  Here's a look at their float.
The Beverly Hills Pet Care Foundation focused on the theme of "Loving Dreams — Adopt a Shelter Pet. Their float featured rotating floral pictures of a kitten, cat, puppy and dog ready to adopt. The foundation was created in 2004 by Paula Kent Meehan to help lower the euthanasia rates at Los Angeles City Shelters. The organization holds adoption events at Beverly Hills parks four times a year and has placed more than 6,200 cats and dogs.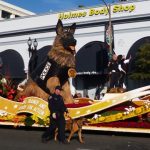 One of our favorite floats was sponsored by K9s4Cops, a Houston-based organization founded in2010 to raise money to give police dogs to law enforcement agencies. With a theme of "Working Together for Safe Communities," the float featured an enormous German Shepherd on the float with marching police dogs alongside the float. (Many thanks to FidoUniverse contributor Meg Foss for the photos.)