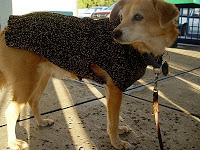 I'm not a fan of rhinestone-crusted, slogan-slobbered clothing for dogs. The fancier the garb, the more likely it is to seriously interfere with a dog's movements. Most of the time, the dog just ends up looking like a cheerleader at Hogwarts that got caught on the wrong end of a wand.
There are exceptions, of course.  Joey is a thin limbed, leggy dog.  He gets cold if we move too slowly on walks or stay too long at Starbucks. I've knit him a sweater that I use only when the weather (or our inactivity) warrants it. I knit an identical sweater for his friend Wagsy.
Lucky is another dog that benefits from a coat. She's a small Chihuahua; she's a senior and she's had hip surgery.  A sweater keeps her joints comfortable.
Knitting dog sweaters is fun.  It's a short project that doesn't take much yarn. The design can be as classic or as whimsical as I wish. A friend has offered to display dog sweaters I knit in his shop to see how they sell.  Miss Lucky was kind enough to model several of the latest models.
The important thing is to find a pattern that fits your dog. These sweaters I adapted and knit them in the round so that finishing was easy. Be sure to leave a hole in the back for hooking the leash to a harness if your dog wears a harness.
Knitting for big dogs has been more challenging for me. No matter how carefully I do my calculations, I never seem to get a good fit.  There's a lot more knitting involved before you find o
ut if the sweater will work or not.
You can find patterns for knitting dog sweaters on Ravelry.com or other internet sources.
Be sure to keep good notes as you go along.
If you enjoy knitting for dogs, try knitting a poop bag or a round bed for your pooch.