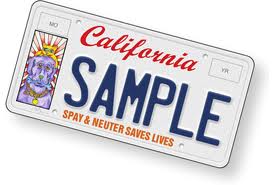 Pierce Brosnan (be still, my heart) has created original artwork for the California Spay and Neuter License Plate Fund. In conjunction with the California Veterinary Medical Board, the program will generate funds for free and low-cost spay and neuter programs across California.
The license plate will also help raise awareness about the overwhelming number of homeless dogs and cats. Spaying and neutering saves animals' lives by reducing the number of uncared for animals who end up in shelters. According tot he California Department of Public Health, the number of dogs and cats put together in public shelters grew from 378,445 in 2004 to 432,512 in 2008. If private shelters are added, an estimated 1 million pets end up in shelters and more than half of them are put to death.
Funds from the license plate sales will help support animal care and control agency voucher programs.
The plates can be ordered online.