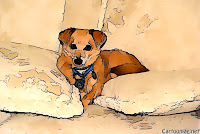 It is a sad fact that we more often outlive our dogs than they outlive us.
That's why it's important to take those photos and journal about those experiences that made you laugh — or cry or simply smile. Red, Joey's daily walking partner, has a full on scrapbook that is added to on a regular basis. It has information about his ancestral origins (Jindo Island, Korea) and songs from stays at Camp Joey or Joey's stays at Camp Red. It has photos of squirrels and cats and visits to the dog park side by side with written messages from his favorite human friends. It's a treasure to revisit.
Joey is the classic cobbler's child — he has no shoes . . . er, um, scrapbook.  But I do have dozens of photos of him — from his first days with me to recent visits to Starbucks.
Recently I discovered a website — Cartoonize.net — that will convert photos to cartoons (among other special effects).  It's simple to use and fun to have the results.  Here are some samples:
Joey
Wagsy
Buddy & Lucky
Red
Denny
The still missed Jean Pierre