Make your dog a champion!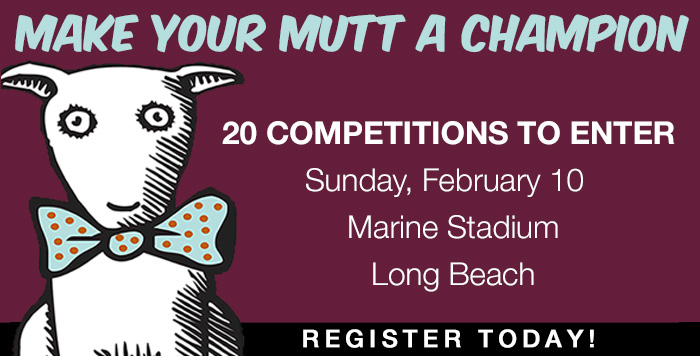 You know you have the world's greatest dog, but here's a way to prove it: HauteDogs.org is sponsoring 20 dog contests, including the Bulldog Beauty Contest and the National Mutt Show on Sunday, Feb. 10, at Marine Stadium, 5225 Paoli Way, Long Beach, 90803.
An adoption fair begins at 9:30 a.m. The 20 competitions begin at 9:40 a.m. with the Best Dog with a Disability competition and end after the 2:50 p.m. Best Tail competition. The schedule of competitions is here.
You must register to compete, but watching is free. You can rent a front-row chair at the event for $5. The $10 registration fee (payable in advance) benefits spay, neuter and adoption efforts and sponsor Justin Rudd's nonprofit Community Action Team. The register fee allows one dog to compete in all the appropriate contests of the day.
The featured event is the National (English) Bulldog Beauty Contest at 10. Other competitions include the Best Dog with a Disability, Best Junior Handler for kids eight to 16 and their dogs; Best Senior Dog; Most Handsome Dog; Prettiest Dog; French Bulldog Beauty Contest; Best Costume on a dog; the National Mutt Show; and the Best in Show.
And those are just the starters.  There're also competitions for best smile, best legs, best ears, best butt, best tail and most photogenic. All breeds and mixed breeds are welcome.
The Haute Dog (pronounced "Hot") was founded in 2001 by Justin Rudd. The group brings together a diverse network of dog owners, lovers, educators, rescuers and supporters. The group does "educational outreach and a variety of events to help build a better understanding and appreciation of dogs, dispel damaging myths, encourage responsible ownership practices, and offer practical adoption and rescue opportunities."
Rudd helped create Rosie's dog beach, the only off-leash dog zone on any of Los Angeles' beaches. It was named Rosie's Beach in honor of Rudd's late bulldog.