Tsunamis, Tornadoes, Disasters, Oh My! Emergency Preparedness For Pets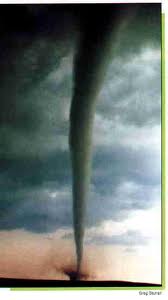 Japan had a tsunami and earthquake. The southeast has been battered by tornadoes. New Orleans had Katrina and massive flooding. California has its earthquakes.
We don't have to look very far to see the need for preparing for emergencies. We don't know what form they will take, when they will hit or what they will demand of us. But a little preparation goes a long way toward survival.
Here are 10 ideas for getting ready to survive an emergency with a pet.
1. Keep a basic emergency supply kit that is regularly refreshed. You'll need one for yourself and your family, but but take time to prepare for your pets' needs as well. This includes food and water for your dog or cat; an extra leash; poop bags; and any medications that your pet may need. Consider a crate or carrier for transporting your pet.  It should be large enough for the animal to stand up, turn around and lie down. Favorite items such as a toy or blanket may help calm your pet. Be sure up-to-date copies of your pets' medical records are also in the kit. Some shelters or kennels will require that information.
2. Make a plan. Are you going to leave or shelter in place? If you leave, where will you go?  Will you be able to get out of your residence? If you're taking your pets with you, will they be welcome where you will be going?  Many emergency shelters can't accommodate dogs or cats. What can you do instead? Are there area hotels or motels that will accept animals? Calling your local emergency management office or animal shelter or control department can be a helpful source of planning information.
Maureen Sheets after finding her dog under the rubble of her garage.
(Photo by Ernest Coleman, Cincinnati Enquirer.)
3. Be sure your dog or cat is licensed and has identification on them at all times. Emergencies are frightening. Many pets run out of instinct. Shelters may be inundated with lost or runaway pets. Be sure that you you have photographs of you and your pet together, tag numbers and other identifying information about your pet in your emergency kit in case you get separated and have to search for your animal once the first danger has passed. If your pet is microchipped, be sure the information in the recovery database is up to date.
4. Talk to your vet about emergency planning. Discuss what types of things you should have in a pet's emergency first aid kit. Discuss permanent identification methods such as microchipping.
5. Make a list of vets, veterinary hospitals or kennels not just in your area, but in any area where you might go for shelter.  That way you'll have some options if your pet can't stay with you where you seek shelter.
6. Make a list of area animal control agencies and shelters.  If you do get separated from your pet, this will give you a head start on locating your pet. Keep a copy with you and a copy in your pet's emergency kit.
7. Plan for leaving your pet behind if you have to. If you have no alternative except to leave your pet behind, plan for that situation as well. Never leave the animal chained up outside. Leave them loose inside your home with food and plenty of water. (Raise the seat on toilets and brace bathroom doors open.) Leave emergency contact information inside where emergency workers can find it.
8. Get a "Pets Inside" sticker to place on doors or windows to alert firefighters or rescue workers that an animal may be inside. If you do flee with your pets in emergency, try to take the time (if possible) to write "Evacuated with Pets" over the sticker so emergency workers don't get delayed looking for pets that have been taken to a safe place.
9. Respond early.  In situations where an emergency is developing or foreseeable, be sure to bring your pet inside.
10. Recognize that stressful situations may cause behavior changes. Pets may have accidents or be more prone to growling or biting. In the early days of dealing with an emergency or disaster, never take a dog outside without having him or her on a leash. Familiar scents and landmarks may be disturbed. Dangerous animals such as snakes may be about. Power lines may be done. All of these pose unexpected dangers to a pet even close to home. Observe them carefully.
Resources and Information:
The following website provide a wide variety of information and suggestions for emergency
planning for pets.
Protect Your Pets in an Emergency, Centers for Disease Control and Prevention: This site has information from a variety of sources about emergency preparedness for animals, including sources to get information about local emergency shelters and their ability to take in animals.
FoodSafety.gov: provides information about keep food safe during and after an emergency. It addresses different types of emergencies and how to know how long refrigerated or frozen food is safe after the power goes out.
Ready.gov: is a concise approach to preparing for an emergency.  It has checklists and an online family emergency plan as well as forms to use. "Information for Pet Owners" is a downloadable brochure available (along with many other helpful brochures) from ready.gov.
Disaster Preparedness, ASPCA. This site offers free emergency pet stickers for posting at your home.