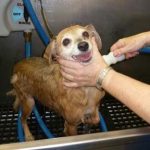 Fido and I agree that bath time is hell — for totally different reasons.
Fido doesn't like to get wet. He doesn't like rain. He doesn't like streams. He doesn't like even stepping into puddles. (He does make an exception for rolling in dewy grass on summer mornings.)
I don't like wrestling a panicky dog into a slippery tub . . . Or the time spent on my achy knees . . . Or the back ache from leaning over the sides of the tub . . . Or managing little cups of shampoo and conditioner with a sidewinding shower hose.
Discovering the benefits of a self-service dog wash center has completely turned around my attitude toward giving the dog bath. It has not, alas, changed Fido's attitude.